INTUS provides clients the ability to manage their assets with ease and integrity.
Asset Solutions
About Asset
Management
INTUS enables collection & integration of data into Web-GIS, while also monitoring and ensuring proper infrastructure functionality to facilitate readiness and emergency response. Whether you are maintaining a pipeline, need updates on fiber lines, fix an underground utility, or locate a service vehicle, INTUS provides a technologically advanced, cost-effective and streamlined approach to managing all types of assets.

Asset Management
Manage assets in real time with our Web-GIS, mobile and sensor technologies. Always stay up-to-date with alerts and work orders so that assets can be maintained with efficiency and integrity.

Our Systems can be used by engineers, planners, managment teams, service workesrs and more.
Cutting Edge Management Apps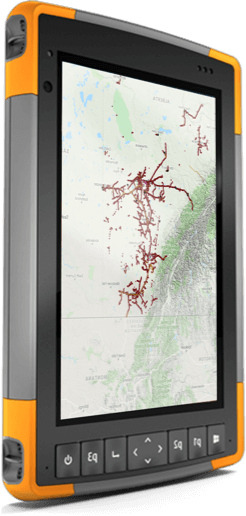 Integrity Systems
INTUS has developed sensor technologies that can detect a multitude of issues that occur within assets. Once an issue has been detected it is mapped on GIS while simultaneously creating a work order for mobile teams and emergency responders.
Data Collection & Integration
INTUS has the ability to collect and integrate all types of geospatial and 'as-built' information into its proprietary GIS engine. All locate and mapped data can also be integrated into GIS and Web-GIS.
Mobile Asset Management
INTUS provides clients with the ability to manage mobile assets such as service workers, vehicles and cargo. When combined with Web-GIS, mobile asset management comes to life, providing clients the ability to track their mobile assets in real-time.
Large Scale Management
INTUS provides clients with the ability to monitor all types of infrastructure, utility, and privately owned assets (telecommunications, oil & natural gas, etc). Assets can be managed from the start of a project all the way to the maintenance stages, allowing clients to constantly maintain their investments in a 360˚ loop.
Web-GIS
Asset management is streamlined with INTUS' proprietary Web-GIS engine "ESDN". Leverage GIS to monitor assets in realtime 3D. Locate the specific area where a problem is occurring and find out the cause in the quickest way possible.
27x7 Emergency Response
INTUS provides 24×7 monitoring for assets through a proprietary Web-GIS data viewer. INTUS can involve 24×7 in advance of any situation by transferring Infrastructure Data into GIS and Web GIS. Mobile communication can also be enabled for field teams and emergency responders. Emergency exits, instructions, manuals and directions can also be integrated and viewed via mobile devices and phone apps.