INTUS uses a variety of proprietary technologies and software to carry out all services. 
Technologies
About Technologies

INTUS utilizes a variety of proprietary technologies for each client project. INTUS provides Cloud-based Business Management Solutions, SAS model, such as FiberLink for utility Construction and Network Asset Management, 24×7 Emergency Response Technologies and services infrastructure, Web GIS for Municipalities and small utilities etc. These technologies have been already used by INTUS and its clients on a wider basis, including Municipalities, O&G companies, Pipelines, and Utilities. INTUS has partnered with Amazon Web Services to provide these comprehensive SaaS solutions. Unlimited Access
INTUS provides all of its technologies and systems to clients for a nominal fee. Clients can utilize a variety of GIS, management systems, AR technologies and the highest quality mapping and integrity technologies available for all their project needs.
Technology Solutions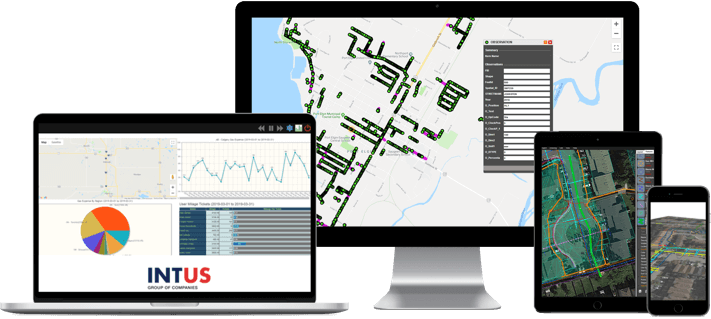 Phosphorus
Phosphorus is a sophisticated geospatial infrastructure network management & monitoring system, which provides real-time performance monitoring of various assets/networks. This multi-utility management system integrates with a GIS platform to provide wide usability for a number of industries.
Space Compass
Space compass is the GPS fleet management system that records detailed paths travelled by individual field vehicles on Web based maps. Detailed information on distance travelled, time spent and vehicle speed is recorded and saved for later analysis. Through high accuracy GPS coordinate readings and managerial supervision, the system cuts associated business costs such as gasoline costs & human error deviances while creating a safer working environment for field crews and providing field data statistics for logistics management.
Mercury Mapping System
INTUS has its own proprietary GPS mapping hardware and processing suite (Mercury) which gives significant cost benefit and flexibility to address peculiar problems and maintain its technological edge. Mercury hardware provides sub-meter accuracy and can be used by trained locators which makes locating and mapping a one step function. In addition INTUS is using other off the shelf high resolution GPS data collection equipment such as Trimble and Nexteq for more demanding engineering oriented mapping services with 1-10 cm accuracy level.
Work Order Systems
INTUS has developed a 360˚ Work Order Management System that generates and tracks all types of work orders.
Features:
Work Order Generation
CRM System
Work Order Management (ORP system)
Cost auditing
Billing & Payroll
ESDN GIS
ESDN is a professional, adaptive and flexible geographic information system (GIS). It allows professionals in the a variety of industries to organize and input large amounts of geospatial data, creating a true 3D visual representation of the built and natural environment. INTUS has spent years developing its systems and servicing multiple industries, ensuring that their GIS is not only functional but also one of the most comprehensive and technologically impressive offerings in the market.  In addition to its Desktop version, ESDN has been recently expanded for Web GIS & ERP version and Mobile Apps. Overall, ESDN provides a proprietary, user friendly, cost effective and versatile system to the customers .
Web-GIS
INTUS provides a Web GIS where the server is a GIS server and the client is a web browser, desktop application, or mobile application. In its simplest form, INTUS' Web-GIS can be defined as any GIS that uses web technology to communicate between a server and a client.
Benefits of Web-GIS:
Global Reach
Large Number of Users
Improved Cross-Platform Compatibility
Cost Effective
Easy to Use
Unified Updates
Diverse Applications
BOSS
BOSS (Business Objective Support System) is an interactive web based ERP (Enterprise Resource Management) and Business Management System, specifically designed for large scale operations. BOSS is highly functional providing a rich UI, authorized access, and organization for clean file, report and data management.
Features:
Increases operation visibility for the top management
Provides ability to make informed decisions
Reduces management overhead
Provide a more efficient fully electronic business environment
Dramatically improve the regulatory compliance
Create dramatic reductions in risk and potential liabilities
Optimize the usage of human resources to an extreme level
Brings organization at-par with internationally adopted best practices
Glob-Surv
 Glob-Surv is a A proprietary handheld device and mobile GIS-based Asset Management tool. It was designed to enable field crews to report, transmit and receive information in real-time through wireless cellular connection. All information is accessible via an integrated web portal which allows for immediate emergency response and crews coordination.