Infrastructure Construction
INTUS maintains the highest level of excellence for a multitude of industries. 
Infrastructure Solutions
About Infrastructure

INTUS provides award winning services for its clients when it comes to developing and maintaining infrastructure, utilities telecommunication projects and much more. INTUS has developed technologies, software and processes to ensure that the development and management of assets are carried out to the highest degree and standard. Through INTUS' revolutionary technological capabilities, clients can expect expedited permitting, 360˚ control of project development from beginning to end, and fully operational systems to help monitor each one of their assets.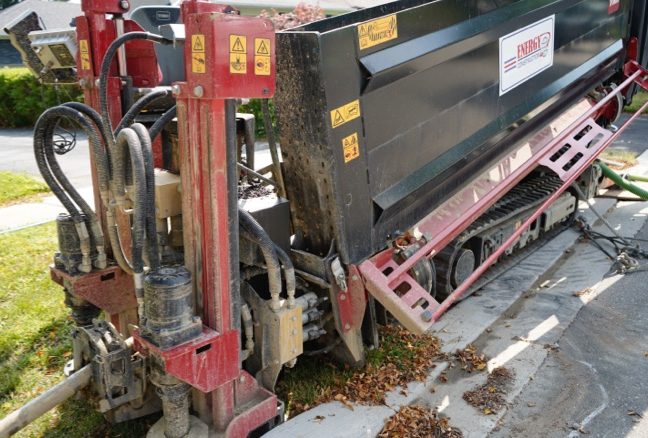 Augmented Reality
INTUS utilizes augmented reality apps for emergency response. With AR, emergency responders can view all types of hidden (underground, behind wall) asset data, making emergency response easier and more effective. Clients are able to explore the particulars of each network asset to gain better insight on how to proceed with development and how to maintain each element of the asset. Visualizing detailed 3D models in real time changes the way in which assets are developed and managed.
HDD
INTUS offers Horizontal Directional Drilling (HDD) for the installation of utilities and fiber optics.  INTUS uses specially designed HDD's along with highly accurate drill bit locator systems to bore under obstructions such as parking lots, streets, buildings or streams without the need to excavate or trench up the entire distance. Often referred to as Trenchless Technology, HDD has much less impact to landscaping, yards, slabs, buildings, streets and rail lines.
Construction
INTUS has the ability to help with a wide variety of infrastructure construction, utility construction and FTTH (Fiber to the Home) drilling & installation. Our turn-key solutions include:
Construction
Installation
Inspection
Maintenance
Construction Management Systems
INTUS' construction management systems are an all-in-one management service. Construction management systems cary out construction planning with the ability to manage multiple particulars of an infrastructure, utility, oil & gas and communication network project and their assets. INTUS offers 360 ̊ monitoring and reporting, allowing clients to have greater control of day-to-day operations, adjustments, costs, and damage prevention. The goal of these systems is to help users make smarter decisions so they can finish and maintain projects with ease, all while saving money. INTUS' construction management system enable users to make smarter and more informed decisions when it comes to dealing with development and maintenance.
Stay updated on billing, controls, and monitoring with contractor management through GIS.
Get ahead with pre-engineering & permitting expedition with data integration.
Monitor every step of construction and installation while keeping project timelines on track.
Real-time information and GIS-architecture help fast track maintenance & repairs of assets.
Design & Permitting
Through the utilization of proprietary GIS technologies, INTUS assists with engineering design and permitting for telecom projects. INTUS has the ability to design networks in 3D and locate all conflicts points in real time. INTUS' GIS allows for all project associated data to be integrated into its framework which can be accessed by contractors and engineers. This helps keep everything streamlined so projects can quickly begin. INTUS' permitting turn-over is much faster than the industry standard.
Hydrovac Daylighting
INTUS utilizes Hydrovac Daylighting capabilities to non-destructively un-earth utilities.  Hydrovacing replaces traditional methods of hand digging and air vacuum excavation. Traditional methods of unearthing utilities come with several drawbacks such as being inefficient and dangerous. Hydrovac daylighting is comparatively a better solution. INTUS use this technique to enhance project safety, increase productivity, and decrease project costs.